Copyright 2001 Ha'aretz

September 6, 2001
Who Will Save Tami Arad?
Fifteen years after the disappearance of navigator Ron Arad, his wife Tami still remains an aguna,`chained' to her marriage until he is declared dead.
Why is no one in the defense establishment prepared to do so?
By Sara Leibovich-Dar

In mid-October, it will be 15 years since Israel Air Force navigator Ron Arad was taken captive. To mark the occasion, the Ron Arad Foundation (Ha'amuta Lema'an Ron Arad) is planning to stage a demonstration by thousands of Jewish youths in front of the United Nations headquarters in New York. United States senators and congresspeople will also take part. New York Senator Hillary Clinton has been invited. Foreign Minister Shimon Peres, who was prime minister when Arad was captured, has promised to attend. In Israel, a million blue balloons, chosen to symbolize the campaign on behalf of Arad, will be released into the air. Schools will focus attention on the missing and captive Israeli soldiers.

"We're working to keep the Arad issue on the agenda," says Tzur Heres, a childhood friend of Ron's who is active in the foundation. But there are also those who think that 15 years after Arad went missing, the time has come to concentrate efforts in a different direction altogether - on lifting the years-long aginut (from aguna, literally, "chained woman") of Tami Arad. (According to Jewish law, a woman with a missing husband whose fate is unknown is not free to remarry. She is "chained" to her marriage until proof of the husband's death can be established).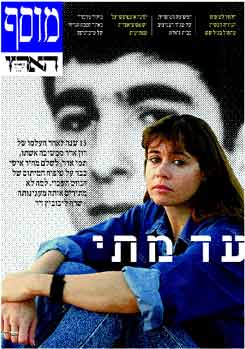 "She should be freed from her aginut," says Tami's father, Nissan Gilad. "It's totally clear why this should be done, but the problem here is very, very complicated. We know it's a complicated thing. The Defense Ministry is handling it."



"This is the critical thing today, but we have no control over it," Heres says. "In terms of the time that passed and the lack of information on Ron Arad's fate, it would be possible - given the latest assessments of the chance that he is alive - to free Tami Arad from being an aguna," says Brigadier General (res.) Avihu Ben-Nun, who was appointed commander of the air force several months after Arad's capture. Brigadier General (res.) Amos Lapidot, the air force commander at the time Arad was taken captive, concurs: "She shouldn't have to be one of the walking dead because of what happened with him. A solution should have been found for her. Something should be done about it."

Freeing Tami Arad from her aginut should be the main goal of the activism surrounding the Ron Arad issue, says Ruth Cohen, widow of navigator Eran Cohen, whose plane crashed after being hit in a dogfight over Egypt during the Yom Kippur War in October 1973. Eran Cohen's body was not returned from Egypt until June 1995. After being freed from aguna status, Ruth Cohen subsequently remarried, had three children and ultimately divorced.

"I think about Tami Arad often," she says. "She needs to be helped. Fifteen years have passed since he disappeared. That's a lot of time. In all this mythology about the army and pilots and heroism, the women are forgotten."

Alive? Dead? Missing?

Ron Arad was captured on October 16, 1986. At 3:45 that afternoon, just east of Sidon in Lebanon, his aircraft dropped a payload on a hangar housing Phantom jets. One of the bombs exploded beneath the belly of the plane. Arad, who was the navigator, and the pilot ejected from the aircraft. The pilot was rescued a few hours later. Arad parachuted to the ground and was taken captive within an hour. In September and October 1987, two photos and three letters in English - in Arad's handwriting - arrived.

"Try to do whatever you can for me," he wrote to his family. "I don't know how, but please say something to our leaders, to the government, to anyone who could do something to get me out of here..." It was the last concrete sign of life from Arad. Tami Arad has been considered an aguna ever since.

"There is no official declaration that a woman is an aguna," says Rabbi Eli Ben Dahan, director of the rabbinical courts. "A woman is considered an aguna from the moment her husband disappears and his whereabouts are unknown." Jewish law is unyielding when it comes to an aguna. She is still considered the man's wife, and cannot remarry. Children fathered by another man are considered bastards (mamzerim). If she marries another man and her first husband subsequently returns, she must divorce the second husband, but cannot return to the first. Aguna status is lifted when there is convincing evidence or testimony that the husband is dead.

"That's why no one can take upon himself the responsibility for asserting that Ron Arad is no longer alive," says Tzur Heres. "On the one hand, many years have gone by and the likelihood that he is alive is growing ever smaller. No one expects Ron Arad to come stepping off the plane one day all healthy and fine. Still, no one is capable of saying that he is dead. If [a credible witness] were to come and say that he really is dead, it would make life easier for everyone."

Avihu Ben-Nun tried to do just that. In a statement to the local Arim newspaper in July, 1999, he said, "Unfortunately, I must say that I am very pessimistic about Arad being found alive. They might not even return the body, since he was apparently abused and this would become evident if the body were returned."

The Arad family was angered by these comments. "It was an awful thing to say," lamented Ron's mother, Batya Arad. "For whom would it be good if an announcement were to come that he is dead?" asked Ron's brother Chen. "For my mother? For Ron himself? For his wife Tami?"

"Ben-Nun is not authorized to make such judgments," says Tzur Heres. "It's a very irresponsible statement. When you've got the family biting its nails waiting for Ron to come back, you can't go saying such a thing. What the family and we at the foundation want is well-established information."

One of the more recent discussions of this issue took place in the Supreme Court about a year and a half ago. Thirteen Lebanese prisoners held by Israel as bargaining chips had requested a further hearing before the Supreme Court in the wake of an earlier High Court decision rejecting their bid to be released from administrative detention. Depositions by senior members of the defense establishment were brought before the Court. The head of the Mossad also gave a deposition and answered questions. Supreme Court President Aharon Barak stated, "According to the assessment of the security officials, it is possible that Ron Arad is still alive. This working assumption cannot be discarded or ignored," he wrote in the ruling. Nonetheless, the majority decision was that the prisoners be released.

Since 1988, there have been conflicting reports and appraisals concerning the fate of Ron Arad: Was he captured by Hezbollah and then transferred to Syria? Is he in Iran? Are reports about physical evidence of his death credible or not? Is Israeli sensitivity about Arad being exploited for bargaining purposes?

As noted above, over the years, the Israeli defense establishment and political leaders have adhered to the working assumption that Arad is alive. In October 2000, Hezbollah leader Sheikh Hassan Nasrallah claimed that he didn't know what had become of Ron Arad: "We don't know if he escaped or whether he is dead or alive," he told a television interviewer. Just a month ago, in July 2001, Syrian journalist Nizar Nayuf, who was released in May after spending nine years in prison, claimed to have seen Arad in August 1993 in a Syrian jail. "He was alive on August 7, 1993," Nayuf told the French weekly Le Point. "On that day, he was taken to a bathroom to be washed. His physical condition was good. If something bad happened after that, it was an action decided upon secretly by the officials who held him in order to make the case go away and to avoid running into problems."

Tami Arad is familiar with all these zigzags. Ironically, in the first hours after his plane crashed, the air force thought Arad was dead. "I asked them to go in and rescue him and I didn't get any answers because they figured he was dead. Then, the next day, he suddenly came back to life," Tami said in a newspaper interview nine years ago. In the first years after Ron's disappearance, Tami was determined. "I know he's alive," she said in a July 1988 interview on Channel One's "A New Evening" program. "I know it for certain," she added.

In July 1991, at a New York press conference, she said: "We have reports that he is still alive." But in August of the same year, in an interview with The New York Times, she voiced some doubt for the first time, admitting that, "From time to time, I catch myself talking about Ron in the past tense." In the same interview, she said that she was also getting help from psychologists who counseled her about the difficulties she could face upon being reunited with her husband.

"It will be hard for us to live together again," she said, expressing the expectation that he would return. In February 1992, she told The Washington Post that Ron was in Iranian hands. In November 1993, she told The Los Angeles Times that she knew her husband was alive. In a personal letter to Ron published in Ma'ariv in October 1994, she asked: "Are you alive? If you are still there - breathing, thinking, feeling, it is my fervent hope that you have a little more energy to keep going ... If so, you will certainly come back."

Since then, however, she has been more cautious in her public statements. In November 1999, she told Ma'ariv: "We are not declaring that Ron Arad is alive and is being held someplace. We don't know and we are not getting any answers." In April 2000, she told Yedioth Ahronoth: "I have no right to say that Ron may not be alive. I am not God and I don't know. I can only say that I loved him very, very much. I hope he is not suffering anymore."

In recent years, Tami Arad has become less involved in the public campaign for Ron Arad and has been trying to stay out of the spotlight. She lives in Givatayim with her 16-year-old daughter Yuval, has a radio show on the Radius station in the Sharon area and writes for various newspapers.



Rabin's dilemma

About six months before Yitzhak Rabin was assassinated, she asked him to look into the possibility of removing her aguna status. For that to be done, Rabin would have had to declare Ron Arad a casualty of war whose burial place is unknown. Eitan Haber, the former director of Rabin's office, recalls that the topic came up once in a conversation between Rabin and Arad. Rabin turned to the military rabbinate.

"This is a story that belongs entirely, for good and for bad and from top to bottom, to the rabbis. I can't imagine a secular body imposing something on the rabbis in this area," says Haber. "Rabin agonized over it a lot," says Heres. "It's our dilemma as well. We, Ron's childhood friends, talk about it quite a bit. What would we tell him if he were to show up one day? What did we do for him all these years?"

Avihu Ben-Nun, meanwhile, believes that the process ought rightly to begin at the military level. "They're the ones who should bring the rabbis the facts, on the basis of which they'd be able to free her from her aginut," he says. But the military appear to be in no great rush.

Deputy Defense Minister Dalia Rabin-Pelossof says that, as a woman, she understands Tami Arad's distress. "In principle, leaving a woman as an aguna is a cruel, terrible and wrong situation; but the whole problem is very delicate and complicated. Also, this is a case of a military man who fell into captivity, and we have no evidence that he is dead. On the contrary, [indications] point more in the direction that he is alive. And there is also an obligation toward Ron Arad's mother. My father met with Tami Arad, but he was also sensitive to Batya Arad."

Alone on the battlefield

The lesson to be drawn from the Arad affair is that smart women should never be wed in a religious marriage, insists former Knesset Member Shulamit Aloni. "In the enlightened world, when a man disappears, the court can annul the marriage after five or seven years. Our rabbis are stricter because they hate the secular in general and women in particular.

"Tami Arad is a victim not just of the religious, but of the army, propaganda and myths. The army is playing a hypocritical game with her," Aloni continues. "No one is bold enough to say that he is dead because the Ron Arad cult is convenient for the army. In his name, they kidnapped Sheikh Abdel Karim Obeid [in July 1989] and Mustafa Dirani [in May 1994], bombed Lebanon and accused the Iranians of kidnapping him. The army has done public relations for itself, twisted though they may be, on the back of Ron Arad. And everyone - all the lawyers who have dealt with the issue over the years - knows the truth, but cooperates with the army because, otherwise, the army won't work with them anymore. And you can't berate them for it, because how can you demand that people be courageous? Arad has been an aguna for so many years because she lives in a society in which a woman's life and fate are not regarded as important."

"I have no idea what's happening as far as [the aginut matter] goes," says attorney Amnon Zichroni, who was involved in international contacts aimed at finding Ron Arad. "I didn't deal with the family issues. I conducted negotiations with various officials around the world, but I wasn't in contact with the families. I suggest you talk with Ori Slonim. He is in contact with the family."

Attorney Slonim says his involvement in the case never had anything to do with relieving Tami Arad of her aguna status. "I dealt with the effort to locate him, though the subject of her being an aguna was constantly hovering over all of us. But it wasn't my job to deal with that."

When asked why he didn't try to see that Tami Arad be freed from her aginut, one former air force commander says: "In our assessment, he is in captivity. The moment we remove her aguna status, we're admitting that he's not alive. This means that, on the one hand, the State of Israel would be officially declaring that he is not alive while she continues to demand his return. It doesn't make sense. How can you seek him on the one hand and simultaneously release her from aginut? Of course, she wants to live her life. It's very cruel."

Rabbi David Levin, who formerly oversaw the air force branch dealing with injured servicemen and is currently the director of the Defense Ministry's rehabilitation department in Haifa, says that becoming an aguna is one of the most difficult things that can happen to a woman.

"It pains me, as it pains every other Jew. It is so terribly, terribly hard. She's stuck in a situation that's neither here nor there. She is caught, trapped. And she can't do anything about it. Being a widow would be preferable."

Why haven't you tried to help her?

"There's no clear basis on which to release her from this status. It's impossible to say whether Arad is dead or alive. There was clear evidence that he was alive. There are letters from him, then he disappeared and no one is saying that he is dead."

The Ron Arad Foundation is not putting its resources into helping Tami Arad with the aginut issue. Yosef Harari, the foundation chairman, says, "We stay away from that. It's her business. Like the Israeli government, we in the foundation argue that he is alive, thus there's no basis for talking about lifting her aguna status."

And so Tami Arad is left to cope with the aginut problem almost completely on her own. In a private meeting with air force pilots several years after Ron's disappearance, she expressed the hope that all the men sitting before her would, "before going out on a mission, come to an agreement in writing with their wives as to what should happen if they ever fall into captivity."

In their book, "Hata'aluma" ("The Mystery," Yedioth Ahronoth Press), Ron Edelist and Ilan Kfir write that Tami Arad also appealed to Shimon Peres in the matter: "He didn't hide from her that the subject was very sensitive and problematic. She asked to be treated like the widows of the men of the Dakar submarine, who were released from aginut. Peres promised to personally handle the request right after the 1996 elections. But then Peres was defeated and the new prime minister, Benjamin Netanyahu, did not deal with her request." In fact, at an October 1996 meeting of the Knesset Defense and Foreign Affairs Committee, Netanyahu asserted that he was convinced that "Ron is alive and we'll be able to bring him home."

After Edelist and Kfir's book came out a year ago, Arad quickly issued a clarification in a press release: "I did not ask for Ron to be declared an IDF casualty. There is no reliable information indicating that Ron is not among the living. Most of the reports and assessments from all the authoritative sources that have been passed on to the family since Ron was taken captive indicate that Ron is still alive."

Agunot for a year

The IDF spokesman does not have any precise statistics on the number of women who were eventually released from aguna status after their husbands disappeared in the course of a military action. A former air force commander estimates that there are between 10 and 15 such women whose husbands served in that branch of the IDF. Most were released from aguna status within a year of the day on which their husbands vanished. Most did not request to be released, as they were still in the throes of grief. The air force made all the necessary arrangements and asked the women to consent to a declaration stating that the husband was a military casualty whose burial place was unknown.

Most were released from their aginut in a process so swift that a few, still struggling to come to grips with the loss of their husbands, refused to cooperate with the air force. Looking back, however, some say that as painful and patronizing as the quick procedure was, it did in fact help them rebuild their lives. Not one can understand why Tami Arad has been left an aguna for 15 years.

Other women have fought to win their freedom from aginut. "I led the way," says Yael Arzi. Her husband, pilot Yitzhak (Aki) Arzi, disappeared on December 1, 1967. His plane, which had been on a photographic mission in Egypt, was hit by Egyptian fire and exploded in the air above the Suez Canal. The crew of a Greek ship sailing nearby saw Arzi and his navigator, Elhanan Raz, parachute into the sea. Arzi's helmet was found near the ship. At first, the army believed that the two had been seized by the ship's crew and transferred to Egypt. The Egyptians denied it. Upon their return a few months after the Six-Day War, the Israelis who had been captured during the fighting also affirmed that they had never been joined by two new prisoners.

The search for Arzi and Raz went on for 10 days. Their bodies were never found. "A few weeks after he disappeared, I realized what it meant to be an aguna," says Yael Arzi. She was then a young woman, the mother of two daughters. Since then, she has remarried, had another daughter and later divorced. "I understood that my human rights were being taken away from me, that I couldn't do anything for myself, that I was dependent on the army for almost everything.

"The laws at the time were dreadful. A woman could only get a passport if her husband signed the form. I couldn't get a passport. I had to get the army to sign for me. If I wanted to take a bank loan, I needed the Defense Ministry to sign the forms. I realized it wasn't any good and I decided to fight to get them to release me from being an aguna."

Arzi's battle lasted 11 months. She documented the whole process in a detailed journal. Her book describing, among other things, her protracted struggle with the rabbinate will be published soon. "The place in which a woman finds herself depends on her - on what she feels and where she wants to be," she says.

On July 18, 1970, Rena Hetz was caught in a similar predicament. The Phantom jet flown by her husband, pilot Shmuel Hetz, and navigator Menachem Eini was hit by anti-aircraft fire as it crossed the Suez Canal. The navigator managed to eject from the plane. He was taken captive and returned after three years. Hetz crashed with the plane on the ground. "Hetz's death will forever remain a mystery," Eini wrote in his book, "Halifat Lahatz" ("Pressure Suit"). "We'll never know what happened in that fateful fraction of a second. Why didn't he get out? Perhaps he was killed on the way out. Hetz took the secret of his death and buried it, together with the smoking and shattered Phantom, in the sands of Africa."

The search for Hetz's body lasted for three years. For all of that time, his wife Rena was considered an aguna. She did not seek to be released from that status and the army did not propose it to her. Now, in retrospect, she says that she was stuck in a kind of coma. "I trusted the air force 100 percent," she says. "I also didn't check what they found after three years. I don't know what was there in the coffin. From talking to other pilots who took part in the battle with him, I understood that he'd been killed. In the first three years, until they found the body ... I anyway didn't have any thoughts of marrying again, so the issue of being an aguna didn't bother me." Rena Hetz never married again.

The turning point in the air force's attitude toward agunot came in wake of the Yom Kippur War. All the women who became agunot as a result of that war were freed from this status after a year - whether they wished to be or not. Tal Lev was one of those women. Her husband, Colonel Zurik Lev, was the commander of the Ramat David Air Force Base and was due to be appointed head of personnel. Even though he was not obligated to fly, he decided to join the active pilots. On October 9, after being hit by Egyptian fire, his Skyhawk plane fell into the sea near Port Said. Pilots who were in the area did not see him parachuting. Wide-ranging searches of the area came up completely empty. Lev left behind his wife Tal and six children. Two years after his death, his son Udi died of an asthma attack a few hours after Lev's memorial service.

"Between all the emotional turmoil and the work of raising the children, being an aguna didn't bother me," says Lev. Several months after the plane crash - she doesn't remember the exact date - a letter came in the mail informing her that she was freed of her aguna status. "I felt like it was a matter of routine. It was clear to me that he was gone. The letter didn't mean anything to me. In any case, I didn't marry again. I was preoccupied with the children and not with the issue of being an aguna."

Ora Samuk, widow of pilot Gadi Samuk, had a different attitude. On October 17, 1973, Samuk's plane was hit near the Suez Canal. Samuk and the navigator, Baruch Golan, parachuted into Egyptian territory. A few days later, their helmets were found near the crash site. Searches of the area turned up nothing. A year after he disappeared, Samuk was declared a casualty whose burial place is unknown, and Ora Samuk was no longer an aguna.

But she was not totally comfortable with the pronouncement of her husband's death. While intelligence reports implied that the two had been killed by rural Egyptians, she still hoped for his return and worried that no more efforts to find him would be made once she was released from her aginut. She resisted the official declaration of Gad Samuk as a casualty with an unknown burial place, and refused to take his life insurance. To this day, Samuk's body has never been found. In the phone book, her name is listed alongside his. She has never remarried.

Ruth Cohen was initially told that her husband, Eran Cohen, was being held prisoner in Egypt. After a year, when it was established that this was not the case, she was released from aguna status. "The army hastened to release me, they said it was good for me, but I wasn't able to digest the loss. They came to my house to tell me that I was free. I refused to talk to them. They came back a week later. The air force put serious pressure on me. After two or three years, when I recovered a little, I understood that this piece of paper had freed me, but I couldn't think about that when I was still stunned with grief."

Cohen remarried. "Since my second husband was a kohen (forbidden by Jewish law to marry a divorcee) and I had also undergone halitza (a ceremony releasing a widow from the halakhic obligation of marrying her deceased husband's unmarried brother, thereby putting her on the same legal footing as a divorcee) the rabbinate wouldn't agree to marry us. After everything I'd been through, we had to get married in a civil ceremony in Rome."

She had three children and divorced after 14 years of marriage. "And that whole time I waited for him. It was only in 1995, when they found his body, that I felt relief. As long as there's no body and no grave, you can't live your life serenely. It's a wound that doesn't heal. Every telephone call made me jump. I was totally worn down. I'm sure that Tami Arad needs a document freeing her from aguna status in order to be done with this nightmare. Even though women like me walk a tightrope, since this document is fateful. It's hard to accept the final determination that he is dead when there's no grave, but it's just as hard to live in uncertainty. And it's similarly hard to cope with the husband's family. There's a problem because the parents object to this pronouncement. There are two conflicting stances - that of the parents and that of the widows."

The Eilat and the Dakar

The question of the aginut of a woman married to a military man was discussed back in the early days of the state, and became the subject of a dispute between the chief rabbi at the time, Yitzhak Herzog, and the chief IDF rabbi, Shlomo Goren. Herzog argued that the chief rabbinate had prepared a form granting a conditional get (religious divorce) for every combat soldier to sign. The soldier's signature gave the rabbinical court permission to grant his wife a get in the event of his disappearance. The conditional formulation was intended to make possible the freeing of agunot married to soldiers, because, in Jewish law, only the husband, and not the court, is entitled to give the wife a divorce.

"Since no military order was given, in most cases, this was not put into effect," Rabbi Herzog charged. Rabbi Goren countered that he himself had prepared such a form, but that soldiers and commanders had refused to sign it. "The commanders argued that having soldiers sign a conditional get just before going into battle would seriously hurt the troops' fighting morale and increase their fear and concern for their families," he wrote in, "Meshiv Milhama" (a book containing halakhic responsa on war-related questions).

"The soldiers themselves objected, saying that it would free the government from having to worry about their wives." However, even without the conditional permission form, Rabbi Goren did manage to free agunot. On October 21, 1967, the destroyer Eilat sank after coming under attack by Egyptian missiles. Of the 188 crewmen, 141 were rescued, 31 were killed and 16 were declared missing, including seven married men. From talking with surviving members of the crew, Rabbi Goren concluded that all of the missing had been killed.

"For each one of them, we have specific evidence of their death or of their being seriously injured and with the conditions and modes of rescue that prevailed at the time of the sinking, anyone who wasn't pulled out and rushed to the hospital clearly died in the water, either inside the ship or on deck," he wrote in "Meshiv Milhama." In March 1969, all of the agunot whose husbands had been on the Eilat were freed.

It was a similar story with the women whose husbands were lost with the Dakar submarine, which disappeared on January 25, 1968 on its maiden voyage from England to Haifa. In June 1969, the agunot were freed on the basis of several justifications. Jewish law stipulates that the wife of someone who is lost in water "that has no end" will not be released from aginut. A halakhic ruling from 450 years ago posited that the judgment regarding someone who drowns within a room is the same as that of a person who drowns in waters that do have an end. Rabbi Goren ruled that the submarine was equivalent to a room and that, therefore, the agunot could be released.

Goren also relied on other reasoning, arguing that statistics prove that the rate of survival from sunken submarines is virtually nil and thus the deaths of 69 crewmen, including the married men among them, could be assumed with certainty. He also said that there was no chance that the crew had been taken captive since, "If all or part of the Dakar crew was alive for such a long period of time, we, or other friendly nations, would have gained knowledge of it."

"I felt that [the release] was too hasty," says Nurit Manor, wife of Dakar sailor Dan Manor. "I was a young mother with two baby girls. I was busy with personal survival and with reorganizing my little family. The aginut issue didn't bother me at all. One night - I remember that it was 1:30 A.M. - I received a telegram informing me that I was no longer an aguna. It was the funniest thing that had happened to me since the submarine disappeared. I didn't understand what all the rush was for. I feared that this step would put a halt to the search for the submarine. It also seemed unfair to our husbands that they should be so quickly declared dead."

However, the search was not discontinued; in 1999, the sunken submarine was finally located and an official state burial ceremony was held for its dead. Being freed of aguna status doesn't heal the aching soul, says Manor. "I don't know if Tami Arad will be able to feel free even after she is no longer considered an aguna. Formally, at least, it turns over a new page, but he missing person will always be with you. For many years, I dreamed about Dan at night. Even when I had another relationship and a new child, I was still married to the man who died on the submarine. A number of times, I dreamed that Dan returned and that I had to resolve the situation. Ten years after the Dakar was lost, I told Dan in a dream that he could stay with me even though I had a boyfriend and a child. 'I love you, too' I told him. It was only after they found the Dakar, two years ago, that I realized that it had to come to an end."